Main Page
From Typewriter Wiki
Welcome to the Typewriter Wiki!
...Now featuring
170
pages!
Click parts of the typewriter below or scroll down to get started!
Site Contents
The Typewriter Wiki is a project run by small group of typewriter enthusiasts. Please note that this is NOT to replace the Typewriter Database or other resources. Rather, this site aims to collect information and make it easily accessible for new and experienced typewriter users. This site is created and maintained by the Typewriter Discord server. The Typewriter Wiki is still quite new, so please excuse our dust as we complete pages and add more content.
Repair and Maintainence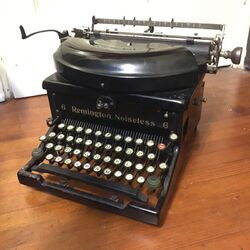 Repair and Maintenance
Typewriter List
An alphabetical list of brands and models can be found in the article Category:Typewriter. Each entry in this list is a link to a page containing historical and technical information about that specific typewriter model.
This is by no means a comprehensive list, and is being updated periodically.
Brand Page
Use this page to search for machines based off branding, instead of just the massive list of typewriters thrown at your face.
Category:Typewriter Brands
Gallery
Images of typewriters from the wiki:
Gallery
IMPORTANT Typewriter Wiki:General disclaimer IMPORTANT