Smith Corona 5 Series
From Typewriter Wiki
The Smith-Corona Silent-Super is a typewriter made by Smith-Corona. It was an extremely successful product and has many variations.
History and Design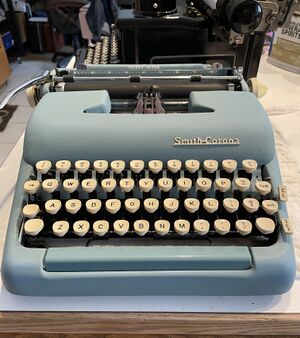 After the Second World War, the wealth of the 1950s brought a new consumer culture to the United States. Now a global superpower, Americans wanted nicer consumer products, and Smith-Corona launched a new line -- colloquially referred to as the "5-series" -- to succeed its prewar portable typewriters. These new machines were robust, rich with functions, well-built, and consumer goods -- in fun colors. Some of the colors available include: Alpine Blue, Seafoam Green, Desert Sand, and Coral Pink. There was also an electric version of the 5-Series called the Electra 12.
The 5-series machines were sold under a number of model names that stayed with Smith Corona through the years. You will see 5-series machines badged under the "Sterling" or "Silent Super" brand frequently. Earlier versions of the "Silent" can also be found.
For the year 1961 only, Smith Corona made the "Enterprise." The Enterprise was a 5-series machine that came in Emerald Green.
Common Issues
The linkages on these machines tend to come off rather easily, but can be easily reattached (as demonstrated here):Smith Corona Typewriter Typebar Links Off, Repair, Reattach, Straighten, Adjust
Reference Photos